---
---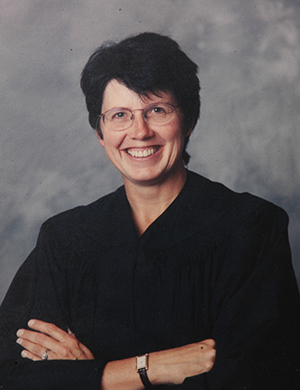 JUDGE MARGARET SPRINGGATE
(1998)

Margaret Springgate was born in 1954, in Reno. She was valedictorian at Reno High School in 1972.

She graduated first in her class from the McGeorge School of Law in California where she was a member of Order of the Coif and the Traynor Honor Society. Ms. Springgate was admitted to the bar in California in 1984, and in Nevada in 1985.

She received her master's degree in English literature from the University of Nevada, Reno, in 1992.

Ms. Springgate worked as a partner at the law firm, McDonald Carano Wilson McCune Bergin Frankovich & Hicks. In 1993, she left the firm and became legal counsel to Governor Bob Miller, serving through 1995. She then became legal counsel to the Nevada Department of Business and Industry's Division of Industrial Relations.

In 1996, Ms. Springgate headed the Child Victims Model Court Project at the National Council of Juvenile and Family Court Judges in Reno.

In May, 1998, Judge Mills Lane retired from the Second Judicial District Court to return to private practice and to begin a nationally syndicated television show. Governor Miller appointed Judge Springgate to fill the vacancy.

After leaving the District Court, Judge Springgate continued as an attorney in private practice in Northern Nevada.

In addition to her professional work, Judge Springgate is mother to three children.


---
---
Second Judicial District Court
75 Court St.
Reno, Nevada, 89501