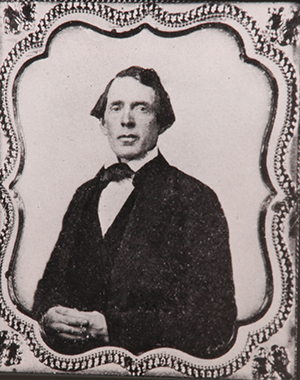 JUDGE JOHN W. NORTH
(1864)

John Wesley North was born in Sand Lake, New York on January 4, 1815. He began teaching school at age fifteen, and in 1833 he became a licensed lay preacher. North attended Cazenovia Theological Seminary in New York. In 1838, he entered Wesleyan University.

North lectured and organized for the Connecticut Abolition Society advocating an end to slavery. North turned to the study of law and was admitted to the New York bar in 1845. He began a law practice in Syracuse. He married Emma Bacon in 1846, but she died one year later. In 1848, he married Ann Hendrix Loomis.

North and his family moved to the Minnesota Territory in 1849. He served in the second Minnesota Territorial Legislature in 1851. In 1855, he helped found the Republican Party of Minnesota. North was a member of the Minnesota Constitutional Convention in 1857. In 1860, he was a delegate at the Republican Convention in Chicago that nominated Abraham Lincoln.

North worked to establish the University of Minnesota. He wrote what became the University's charter and was a treasurer of the Board of Regents from 1851 to 1860.

In August, 1855, North purchased 160 acres of farmland. This was the beginning of the town, Northfield, Minnesota, which was named after him. During the panic of 1857 he suffered financial failure, and by 1859 he had sold his business interests. He left Northfield after only six years.

President Lincoln appointed North to be the official surveyor of the new Territory of Nevada in 1861. Because of the conflicting claims about mine boundaries, this was an important position. He was admitted to the Nevada bar in 1862. North moved to Virginia City where he surveyed, invested, began an ore-treatment mill and practiced law.

In 1863, Justice Gordon Mott, who had been elected to Congress, was to resign from the Nevada Territorial Supreme Court. Justice Horatio M. Jones recommended North for the Court. On August 20, 1863, President Lincoln gave North a temporary presidential appointment to Nevada's highest court. He was commissioned as an associate justice for a four year term on January 24, 1864.1

In the beginning, North was praised for his decisions and for speedily clearing his docket. He was elected president of the 1863 Nevada Constitutional Convention which wrote the proposed Nevada state constitution. At the convention, North advocated taxing mining companies.

In the dispute between the "one-ledge" vs. "many-ledge" claims to the Comstock Lode, North ruled for the "many-ledge" proponents. North favored the smaller mining companies that argued the lode was not one large vein of ore, but many different ones.

Willian M. Stewart, a lawyer for large mining companies, accused North of accepting a bribe to rule for the "many-ledge" side. A battle between the two was fought in the newspapers. North became ill and resigned from the Court on August 22, 1864. Although North then sued Stewart for slander and won, he left the Territory for California.

North moved with his family to Santa Clara in northern California. From there he went to Tennessee to establish a colony dedicated to education and industry. When that failed, he left Tennessee and in 1870 returned to California.

Along with associates, North founded the town of Riverside. John W. North High School and John W. North Water Treatment Plant there are named after him.

In 1879, he and his family moved to San Francisco where he joined a law firm. That same year, he failed to win the Republican nomination to the California Supreme Court. In 1880, North became the general agent for Washington Irrigated Colony near Fresno. In Fresno, he opened a law office, built a house and started a farm in the nearby community of Oleander.

John North died in Fresno on February 22, 1890. He was buried in Riverside, California. He is profiled in the book, John Wesley North and the Reform Frontier, written in 1965.


---
1Territorial Supreme Court justices were also assigned to serve as circuit court judges in judicial districts. Each justice held court in his district. The Territorial Supreme Court justices included here held court in the district including Washoe County