---
---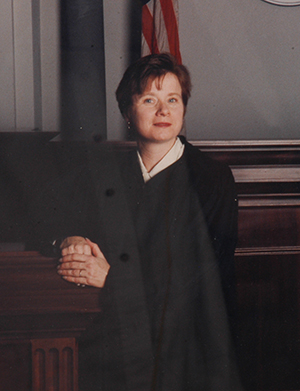 JUDGE DEBORAH E. SCHUMACHER
(1997-2014)

Judge Schumacher was appointed by then Governor Miller to the Second Judicial District Court Bench, Family Division, in April 1997, and served in that position until January 4, 2015. Prior to her appointment by Governor Miller, she served as a family court master and founded our district's Juvenile Drug Court. More recently, she presided over the Family Drug and Mental Health Courts.

Judge Schumacher is a member of the Board of Directors of the National Council of Juvenile and Family Court Judges, which provides training and technical assistance to the nation's juvenile and family court judges. She also is a practitioner member of the federal Coordinating Council on Juvenile Justice and Delinquency Prevention.

Prior to becoming a judge, she was a partner in McDonald, Carano, Wilson, LLP. She is a past President of the Nevada District Judges Association.

Judge Schumacher received her law degree from the University of Notre Dame, a Master's degree in U.S. History from each of the University of Chicago and Notre Dame, and a Bachelor of Arts degree from Valparaiso University.
---
---
Second Judicial District Court
75 Court St.
Reno, Nevada, 89501