---
---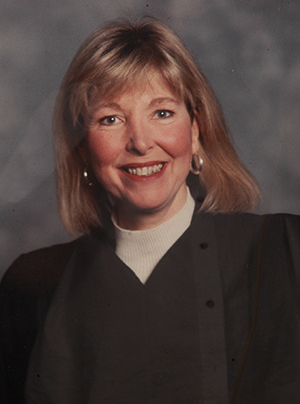 JUDGE DEBORAH A. AGOSTI
(1985-1998)

Deborah Agosti graduated from the University of Toledo in 1973 and from the University of Toledo Law School in 1976. She began her career in Montgomery County, Ohio as the deputy public defender before moving to Nevada that year.

Deborah was one of Nevada's first one hundred women attorneys. In Reno, she worked as the senior staff attorney for the Senior Citizens Legal Assistance Program from 1977 to 1979. She then worked as a deputy district attorney before being elected as a Justice of the Peace in Reno in 1983. She was the first woman Justice of the Peace in Reno and served as Chief Judge of the Court.

In 1984, she was elected to the Second Judicial District Court in Washoe County. She and Robin Wright were the first women District Court judges in Washoe County. Deborah Agosti was re-elected to the Court twice without opposition. While on the District Court, she served as Chief Judge.

In 1998, fourteen years after being elected to the District Court, Ms. Agosti was elected to the Nevada Supreme Court also without opposition. She served on the Supreme Court until her term expired in 2005. After leaving the Supreme Court, she became a Senior Judge.

Deborah Agosti has been the recipient of numerous awards. She was named Outstanding Young Woman of 1983 for the State of Nevada by the Outstanding Young Women of America. She was called one of America's 100 Young Women of Promise by Good Housekeeping Magazine in May, 1985. She was named one of Reno's Outstanding Young Women for 1986 and one of three Outstanding Nevadans for 1986 by the Reno Jaycees.

Other awards included Outstanding Woman Lawyer for 1993 by the Northern Nevada Women Lawyer's Association, Judge of the Year for 1997 by the Nevada District Judge's Association and Woman of Achievement in 1998 by Soroptimist International of Truckee Meadows.

In 2013, Deborah Agosti was presented with the Cheryl Kosewicz Award given to those who support Nevada's Law Related Education (LRE) Programs. She coached the Galena High School Mock Trial team for many years.

Deborah Agosti said the spiritual and social values that have guided her were learned growing up in Toledo and at Central Catholic High School in that city.
---
---
Second Judicial District Court
75 Court St.
Reno, Nevada, 89501