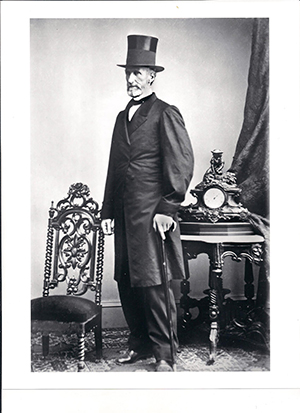 JUDGE GORDON N. MOTT
(1861-1863)

Gordon Newell Mott was born in Zanesville, Ohio on October 21, 1812. He studied law and was admitted to practice in Ohio in 1836. In that same year, he volunteered to fight in the Texas war of independence against Mexico. After serving nine months he was discharged and returned to Ohio, where he married Amelia Huntington. Together they had three sons and a daughter.

Between 1846 and 1848, Mott served as a captain during the Mexican-American War. He came to California during the Gold Rush in 1849, crossing the plains in a wagon. Settling near Auburn, California, he opened a store and practiced law. Mott became a county judge in Sutter County in 1850. He was appointed to the Tenth Judicial District Court by the Governor of California and served one term from 1851-1854. In 1854, Mott was elected Recorder of Marysville. In 1859, he began a combination saddle train and stage service between Downieville, California and Virginia City. Along with Charles DeLong, Mott began a law partnership in Yuba and Sutter counties in 1861.

Mott was appointed an associate justice of the Nevada Territorial Supreme Court by President Lincoln on March 27, 1861.1 As a justice, Mott ruled in the one-ledge/many-ledge dispute. He decided that the Comstock Lode was a single vein of ore, or "ledge", rather many smaller veins or ledges. The decision favored the larger corporations and was very unpopular with the small miners.

On September 3, 1862, Mott was elected to be a Nevada territorial delegate to the 38th Congress. In 1863, he resigned from the Supreme Court to be a delegate. Mott faced additional pressure to leave because of the opposition to his ruling on the Comstock Lode. He was replaced on the Court by John Wesley North.

Mott's term as a delegate ended October 31, 1864 when Nevada became a state. He moved to San Francisco and returned to the practice of law. He became Court Commissioner for the Nineteenth District Court in California. Gordon Mott died in San Francisco on April 17, 1887 at age 74.


---
1Territorial Supreme Court justices were also assigned to serve as circuit court judges in judicial districts. Each justice held court in his district. The Territorial Supreme Court justices included here held court in the district including Washoe County