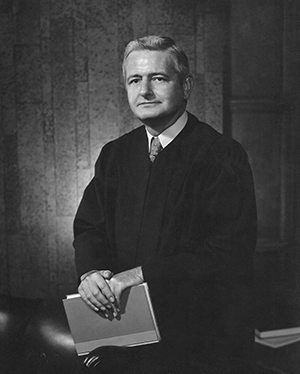 JUDGE WILLIAM N. FORMAN
(1973-1990)

William N. Forman was appointed by Governor Mike O'Callaghan in August, 1973, to fill the vacancy in the Second Judicial District Court created by the death of Honorable Emily J. Gezelin.

Judge Forman was born December 12, 1930, in San Francisco, California, although at the time his parents were residents of Carson City, where his father, William J. Forman, was serving as Deputy Attorney General.

Judge Forman attended the Reno schools, graduating from high school in 1948, from the University of Nevada with a B.A. degree in 1952, and from the University of Utah with an L.L.B. in 1955. He was admitted to the State Bar of Nevada in the same year, later becoming a member of the firm of Woodburn, Forman, Wedge, Blakey, Folsom and Hug.

He served as a Special Deputy Attorney General of the State of Nevada from 1959 to 1962, and was serving as Chairman of the Hard Minerals Committee, Natural Resources Section of the American Bar Association, at the time of his appointment. He was active in many youth organizations and served as Exalted Ruler of the Reno Elks Lodge.

Judge Forman was married to the former Joan Petermann of Boulder City. With her, he had four children, William, Peter, Chris and Jane. Judge Forman died in February, 2015.