---
---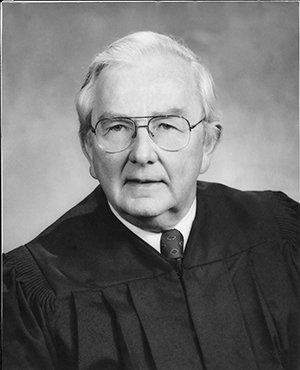 JUDGE RICHARD C. MINOR
(1983-1984)

Richard Campbell Minor was born on August 21, 1921, in Powell, Ohio. He graduated from Ohio State University.

He served with the 75th Infantry Division in Europe during World War II. He was involved in several major battles-the Calmor Pocket, the Battle of the Bulge and the Battle of Germany. For his actions during the war, he was awarded the Combat Infantry Badge and the Bronze Star.

He remained on Active Reserve with the 332nd Infantry Regiment. Mr. Minor retired in 1960, with the rank of captain.

After the war, he returned to Ohio, and received both his LL.B. and J.D. degrees from Capital University. Mr. Minor was admitted to the Ohio State Bar Association in 1952.

In Ohio, he worked as Assistant Attorney General under Attorney General William O'Neil, and then as Assistant Director of Public Welfare under Governor O'Neil.

Mr. Minor came to Reno in 1959, and was admitted to the Nevada State Bar that same year. He was appointed a Justice of the Peace in 1972, and continued in that office until 1983. In a special election, he was elected to the Second Judicial District Court, Department 8, in 1983 and served to 1984.

Judge Minor was a treasurer and president of the Nevada Judges Association. He was also on the faculty of the Nevada Judicial College. He was a chairman of the Washoe County Republican Party. He was a lifetime member of the Veterans of Foreign Wars, and belonged to the American Legion and the Reserve Officers Association.

At one time, Judge Minor practiced law with Charles Weller who would become a Second Judicial District Court judge himself.

Judge Minor continued to practice law until a few months before his death on April 21, 2004 at age 82. Judge Minor was married to Margaret Lightner. Together, they had a combined family of nine children.


---
---
Second Judicial District Court
75 Court St.
Reno, Nevada, 89501