---
---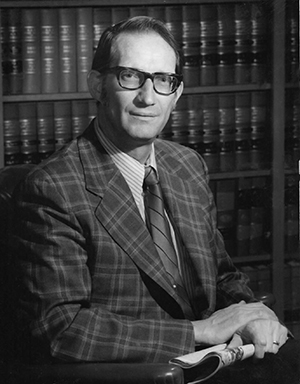 JUDGE ROY L. TORVINEN
(1975-1992)

Roy L. Torvinen was born June 19, 1927, in Tacoma, Washington. He graduated from Reno public schools and from the University of Nevada in 1953.

Judge Torvinen graduated from Georgetown University Law School in 1956 and was admitted to practice law in the District of Columbia and in the State of Nevada that same year. He began his legal career as a Deputy Reno City Attorney and was elected to the office of Reno City Attorney in 1959. In 1963 he entered into private practice.

He was elected to the Nevada State Legislature as Assemblyman from the Reno District completing four terms. In 1969 he served as Chairman of the Judiciary Committee, was Majority Floor Leader and in 1971 he was a member of the Legislative Commission.

He was appointed one of Nevada's three Commissioners to the National Conference of Uniform Law Commissioners, serving in the capacity from 1971 through 1974.

In 1965 Judge Torvinen organized the Washoe County Legal Aid Society and served as its President until 1969.

He is married to the former Helene Norris and they have four children, Todd, Karen, Thomas and James.
---
---
Second Judicial District Court
75 Court St.
Reno, Nevada, 89501