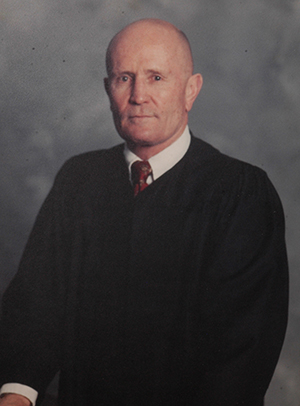 JUDGE MILLS B. LANE
(1991-1998)

Mills Bee Lane III was born November 12, 1937. He hailed from a prominent Georgia family. His grandfather founded the largest bank in Georgia, and his uncle and namesake was the president of Citizens & Southern National Bank. His father owned a large plantation.

It was assumed Mills would go into one of the family businesses, but Mills had other ideas. Upon graduation from high school in 1956, he joined the Marine Corps. Mills became a boxer while serving in the Marines. When stationed in Okinawa, he became the All Far-East welterweight champion.

After his discharge form the Marine Corps in 1959, Mills wanted to enroll at the University of Nevada, Reno, because he read an article about the University's boxing program. In 1960, he won the NCAA Welterweight title and barely missed making the Olympic team. Lane turned professional while still in college and compiled a record of ten wins and one loss.

Mills graduated from the University of Nevada, Reno, in 1963 with a degree in business administration. While there, he began his career in judging-as a boxing referee. He graduated from the University of Utah's College of Law in 1970 and passed the Nevada bar exam.

Lane began working in the Washoe County District Attorney's office as a prosecutor in 1971 and would spend nearly 17 years there. He was elected District Attorney of Washoe County in 1982. He became a judge of Washoe County's Second Judicial District Court in 1990. In 1998, he stepped down from the bench to begin a courtroom series, Judge Mills Lane, which ran for three years.

Mills Lane refereed boxing matches in the 70's, 80's and 90's. He became famous for his pre-fight phrase, "Let's get it on." He was the referee in more than 100 world championship fights. He also refereed in many less important fights because he loved the sport and respected fighters.

Lane became a household name in the United States on June 28, 1997, the night he refereed "The Bite Fight", a rematch between world heavyweight champion Evander Holyfield and challenger Mike Tyson at the MGM Grand in Las Vegas. Tyson twice bit Holyfield's ears in the early rounds, and Lane disqualified him.

Mills Lane's adopted city, Reno, honored him on December 27, 2004, proclaiming it "Mills Lane Day". In May, 2006, a new justice administration building in downtown Reno was named after him. The building houses the Reno Municipal Court and the Washoe County District Attorney's office.

Mills Lane has been honored for his dedication to the sport of boxing. He has been selected to the University of Nevada Athletics Hall of Fame, the World Boxing Hall of Fame, the Georgia Sports Hall of Fame and the International Boxing Hall of Fame.