---
---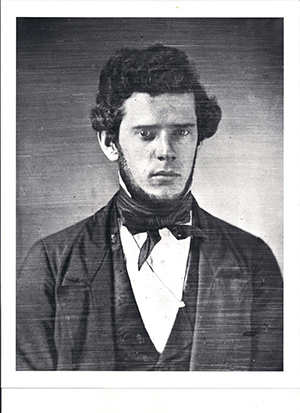 JUDGE HORATIO M. JONES
(1863)

Horatio McLean Jones was born in Howellsville, Pennsylvania in 1826. He graduated from Oberlin College in 1849. He first taught school and then graduated from Harvard Law School in 1853. In 1851, he married Amenia Strong of Livingston, New York.

Jones practiced law in Missouri and continued to do so when he became the Missouri Supreme Court Reporter in 1856. He then received an appointment as an Associate Justice of the Nevada Territorial Supreme Court. He arrived in Nevada and took the oath of office in September, 1861.

After an unpopular jury verdict in the one-ledge, many-ledge, case about the Comestock Lode, the legislature of the Territory tried to switch the judicial districts of Jones and Justice Gordon Mott. Each justice also served as a judge of a district court.1 Jones objected and accused the legislature of improper procedure because the bill was signed after the legislature's adjournment.

Jones, who had been moved to the First Judicial District, said he would not practice the kind of law practiced there. He walked out of court and would not hear any more cases during the May term of 1863. On July 30, he suddenly resigned from the Nevada Territorial Supreme Court.

Jones left the bench and moved to Austin, Nevada where he practiced law. President Lincoln appointed John Wesley North as his temporary replacement.

The Nevada Constitution was put to a vote in 1864, and Jones made many speeches supporting it. He changed political parties and joined the Democratic Party. He was one of that party's presidential electors to the Electoral College in the election of 1864.

Jones remained in Austin, Nevada practicing law until 1866. He moved for a time to California and then in 1868 returned to St. Louis. There Jones served as a district judge from 1871 to 1877. He had a son who was born in 1868 but died in 1875. He later moved to Vermontville Village, Michigan, dying there on June 10, 1906 at age 79.


---
1Territorial Supreme Court justices were also assigned to serve as circuit court judges in judicial districts. Each justice held court in his district. The Territorial Supreme Court justices included here held court in the district including Washoe County
---
---
Second Judicial District Court
75 Court St.
Reno, Nevada, 89501