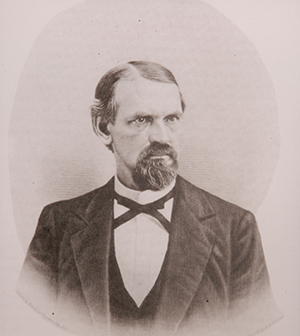 JUDGE CHARLES N. HARRIS
(1867-1874)

Was born at Dryden, Tompkins County, New York, on September 3, 1839. When eight years of age, his parents removed to Bellevue, Eaton County, Michigan, and in 1852 from thence to Hennepin County, Minnesota, where he grew to manhood. He received a common school and academic education and progressed to the junior year at Hamlin University, at Redwing, Minnesota. While at college he enlisted, April, 1861, in Company F, First Regiment, Minnesota Volunteer Infantry, and was present at the battle of Bull Run, July 21st of that year. He was seriously wounded and reported killed. Being left upon the field he was taken prisoner and sent to Richmond, Virginia, where he remained in the prison hospital until about November, when he, with fifty-six others who were supposed to be permanently disabled, was paroled and sent to Fortress Monroe, where he received his discharge. In August, 1861, no tidings having been received from him, funeral services were held at his home in Minnesota.

Again taking service in the army in June, 1862, he received an appointment at Washington, D. C., and remained there until August, 1864, when he resigned a clerkship in the Quartermaster General's office and came to Nevada, arriving in September of that year. Having studied law during his stay in Washington, he was admitted to the Bar before the Supreme Court of Minnesota, just as he was leaving for Nevada. He took up his residence in Washoe County and entered successfully upon the practice of his profession, until in 1866 he was elected Judge of the Third Judicial District, consisting of the counties of Washoe and Roop. In 1870 he was elected Judge of the present Second District, comprising Douglas, Ormsby, Washoe and Roop Counties. At the expiration of his term, in January, 1875, he resumed the practice of his profession at Carson City, to which place he removed in 1873.

In 1876 he was appointed by President Grant, Register of the United States Land Office at Carson City, which he continued to hold until August, 1880, he having tendered his resignation in March previous. He was one of the Nevada delegation to the Cincinnati Republican Convention, which nominated Hayes to the Presidency. While practicing his profession he also edits the DAILY INDEX, a small but stalwart Republican paper, which commenced publication in December, 1880, at Carson City.

Judge Harris is a man of good abilities as a lawyer and writer, and in character is of thoroughly independent and strong traits. In person he is tall and of good appearance. He is thoroughly identified with the history of western Nevada and is well known throughout the State. To his thorough acquaintance with the subject and his ready pen the publishers of this work are indebted for the history of the Bar of Nevada.

The Judge was married in November, 1867, to Miss Clementine Magee, of Washington, D. C., and has two children, both boys.