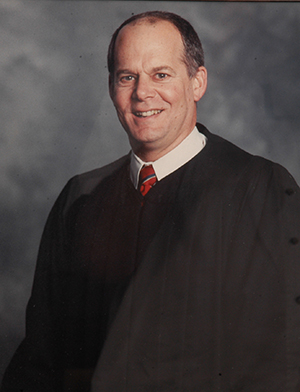 JUDGE SCOTT T JORDAN
(1993-2004)

Judge Scott Jordan grew up in the San Francisco Bay Area. He graduated from Pomona College in 1971 and UCLA School of Law in 1975. After law school, he moved to Reno to work as a staff attorney at Washoe Legal Services. After two years, he entered private practice in Downieville, California, then served as Executive Director of the Law Center For the Disabled and as a deputy Washoe County Public Defender.

Judge Jordan was appointed the first full-time Court Master in the Second Judicial District Court, serving from 1985 to 1992. He presided in juvenile, domestic violence, child support enforcement, and other domestic relations cases. Washoe County's domestic violence protection order program, which Judge Jordan started in 1988, was recognized nationwide as a model program.

Judge Jordan was elected Washoe County's first Family Court Judge in 1992. He served as Presiding Judge of the Family Division of the District Court until 2003, and retired to Senior Judge status in 2004.

Judge Jordan was an adjunct faculty member of the University of Nevada, Reno, and served as faculty for the National Judicial College, the National Council of Juvenile and Family Court Judges, and the National Judicial Institute on Domestic Violence. He served on numerous community boards and was recognized for his work on behalf of abused and neglected children, victims of domestic violence, the mentally disabled, and the aged. He also served as a consultant for the U.S. Justice Department, Office on Violence Against Women.

Judge Jordan taught high school in the Philippines, participated in a Juvenile Justice Exchange Program in Guatemala, volunteered in orphanages in Kenya and Mexico, and trekked and hiked on five continents. He is married and has one son.