---
---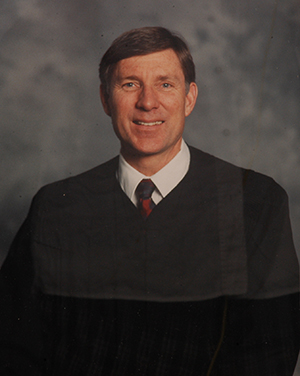 JUDGE STEVEN P. ELLIOTT
(1997-2012)

Steven Elliott was born in Mammoth Lakes, California.

He was a 1971 graduate of Stanford University. Mr. Elliott received his law degree from the University of Denver, School of Law in 1975.

Reno was the nearest big town to Mammoth Lakes. Familiarity with Reno and affection for the city brought him here after law school. He worked for the firm, Echeverria and Osborne. He started work for the City of Sparks as the city prosecutor in 1977.

In 1979, Mr. Elliott was elected the Sparks City Attorney. He held that office for seventeen years. He was a member of the International Municipal Lawyers Association, and the chairman of the Committee on Municipally Owned Utilities.

In 1996, Steven Elliott was elected a judge of the Second Judicial District Court. Judge Elliott served in Department 10 of the Court until March, 2013.

He was a founding director of the Washoe County Domestic Violence Task Force. He served on the Statewide Court Security Task Force to improve security for judges and the public at courthouses throughout Nevada.

Judge Elliott also served on the Board of Directors for the Boys and Girls Club of Truckee Meadows. He was the founding director of the Sparks Chamber of Commerce, and he was a member of the Reno Rotary Club.

Judge Elliott is married to his wife, Mendy, and has three sons: Ben, Derek, and Nick.


---
---
Second Judicial District Court
75 Court St.
Reno, Nevada, 89501