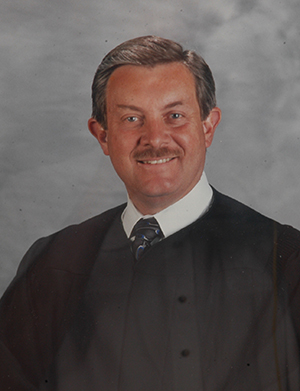 JUDGE JAMES W. HARDESTY
(1999-2004)

James W. Hardesty was born and raised in Reno, Nevada. He graduated from the University of Nevada, Reno with his Bachelor's degree in accounting in 1970. While there, Hardesty was elected president of the student body and named outstanding senior graduate.

Hardesty graduated from the University Of Pacific McGeorge Law School in 1975. He returned to the Reno/Sparks area and entered private practice. He remained a private practitioner until 1998.

That year he was elected District Court Judge for the Second Judicial District Court of Washoe County. In 2001 and 2003, he was elected by his fellow judges Chief Judge of the Court. Hardesty also served as President of the Nevada District Judges Association in 2003.

Hardesty implemented a number of changes at the Court. They included: early case resolution in criminal matters, expansion and strengthening of specialty courts, revitalization of bench/bar committees, the promulgation of "Chief Judge" rules, and the creation of a more cohesive structure. He also assumed responsibility for the Court's budget which comprised nineteen judicial officers and approximately one hundred seventy employees. He represented the Court in the community and developed a rapport with other agencies and stakeholders.

In November 2004, Justice Hardesty was elected to the Nevada Supreme Court. He served as Chief Justice of the Nevada Supreme Court in 2009 and was re-elected to the Court without opposition in 2010.

Justice Hardesty was unanimously nominated in June 2013 by his colleagues on the Supreme Court for the William H. Rehnquist Award for Judicial Excellence. The nomination was also supported by the Chief Judges of the Second and Eighth Judicial District Courts.

As a Judge and as a Justice, he has served on various Supreme Court Commissions including: the Nevada Supreme Court Task Force to create a Business Court in Nevada, the Nevada Supreme Court Task Force studying the Multi-Jurisdictional Practice of Law, the Nevada Supreme Court Commission on Judicial Funding, and the Nevada Supreme Court Committee to Implement Recommendations of the Jury Improvement Commission.

Justice Hardesty currently co-chairs the Nevada Supreme Court Bench-Bar Committee, the Nevada Supreme Court Access to Justice Commission, and the Commission on Statewide Juvenile Justice Reform.

He is currently the vice-chair of the Nevada Legislature's Advisory Commission on the Administration of Justice. Justice Hardesty is a member of the Nevada State-Federal Judicial Council, serving as chairman from 2009 to 2011. He was re-elected to serve as chair of the council in May 2014.

James Hardesty has been married for 44 years to his wife, Sandy, and together they have two children and five grandchildren. He has been active with the Foster Grandparents Program, served on the Nevada State Board of Education, and is Past President of the Rotary Club of Sparks.