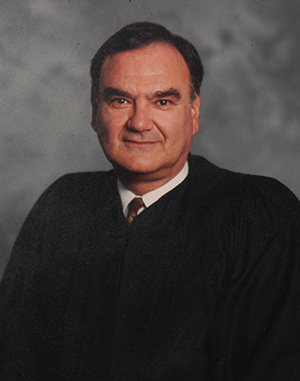 JUDGE STEVEN R. KOSACH
(1991-2012)

Steven Kosach grew up in the San Francisco Bay Area. He came to the University of Nevada on a baseball scholarship and played on the 1965 conference championship team. He graduated from the University in 1967.

He also participated in ROTC while in college. Steven Kosach was sent to Vietnam in July 1968, as a first lieutenant in the Americal Division. While in Vietnam, he was wounded by sniper fire in the leg and grenade shrapnel in the back. In July 1969, he left the war with a Bronze Star for Valor, two Purple Hearts, and the Silver Star for Heroism after he pulled two wounded mates out of a creek and led eight others against the attackers.

After he returned, he enrolled at McGeorge Law School in Sacramento. About his decision to go to law school, Mr. Kosach said his reasoning was, "I can do this and help people." He graduated from law school in 1972. After that, he worked for two years as a prosecutor in the Sacramento County District Attorney's Office.

In 1974, he returned to Reno and joined the Reno City Attorney's Office. In 1976, Mr. Kosach went into private practice specializing in civil litigation. From 1986 to 1988, he was the managing partner of a large law firm, but he was unhappy spending so much time away from his family. So, in 1990, he decided to run for the Department 8 judgeship of the Second Judicial District Court. Judge Kosach was elected and served from 1991 to September 10, 2012.

As a judge in criminal cases, Judge Kosach did not automatically impose the sentence the prosecution sought. He said he was an optimist, a patron of the second chance and a believer in the basic goodness of humanity. He tried to divide the underlying truths about the defendant. Retired District Judge Peter Breen said of Judge Kosach, "He's willing to give people an opportunity to improve themselves."

Judge Kosach saw baseball as a metaphor for civilized society. Hard work, discipline, playing by the rules are rewarded in baseball as they are in society.

Upon retiring from the bench, Judge Kosach became a senior judge and an arbitrator.