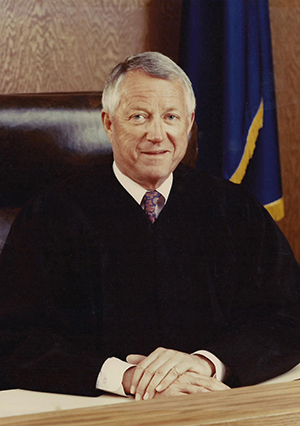 JUDGE ROBERT L. SCHOUWEILER
(1981-1990)

Robert L. Schouweiler was born April 5, 1927. By 1946, his family was settled in Reno. His father was a banker who helped establish the headquarters of the Nevada Bank of Commerce.

Robert Schouweiler was a graduate of Pomona College in Claremont, California, and the University of San Francisco Law School. He served as a commissioned officer in the United State Marine Corps during the Korean conflict. Upon his return to civilian life in Reno, he married the former Eileen Caffrey.

Mr. Schouweiler was elected as a Republican to the Nevada State Assembly in 1958, representing Reno and North Lake Tahoe. He served two terms in the legislature.

Prior to being appointed to the bench of the Second Judicial District Court, Mr. Schouweiler practiced law with his brother, Bart Schouweiler, in Reno. He specialized in estate and probate law.

Governor Robert List appointed Robert Schouweiler as a Second Judicial District Court judge in October 1981. He was the first judge appointed to Department 9. He served for nine years through January 1991.

"I served for several years with Judge Schouweiler," former Second Judicial District Court Judge Brent Adams said. "He was extremely kind to me. He was one of the most delightful people I ever met. He brought not only competence but elegance to the job of judging."

In his years after the District Court, Judge Schouweiler was a hearing officer in Nevada for worker's compensation and employment cases.

Judge Schouweiler was an active member of many professional, charitable and political organizations during his lifetime including Trinity Episcopal Church in downtown Reno.

Because of his love for the sea, in retirement, Judge Schouweiler moved to the California coast. He died in La Costa, California, at age 84 on October 21, 2011.

His wife, Eileen, had predeceased him. He was survived by his brother, Bart, two sons and three grandchildren.