---
---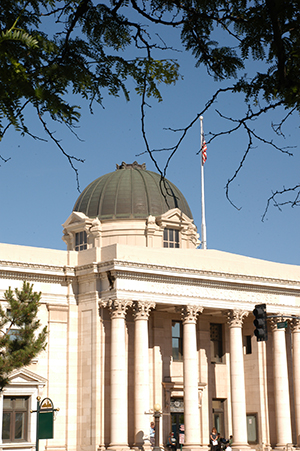 JUDGE POWHATAN B. LOCKE
(1863-1864)
Territorial Court of Utah Petition
Powhatan B. Locke was born in Kentucky about 1828. The family later moved to Missouri. By 1850 Locke was practicing law and was elected Mayor of Savanna, Missouri in 1854 and reelected in 1885. In 1862 and 1863 he was the presiding Judge in the County Court in St. Joseph, Missouri.
When Horatio M Jones resigned as an Associate Justice of the Nevada Territorial Supreme Court in 1863, President Lincoln appointed Locke to replace him. The District where he "rode circuit" as trial Judge compromised of Storey, Washoe and Roop counties. In August 1864 Locke resigned from the Territorial Supreme Court when Nevada became a State and it elected its first Supreme Court Justices.
Locke and his wife Tabitha had four children and he died of consumption in Louisiana, Missouri on June 12th 1868.
---
---
Second Judicial District Court
75 Court St.
Reno, Nevada, 89501