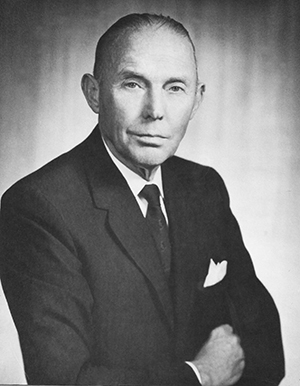 JUDGE JOHN STUART BELFORD
(1951-1954)

Early in the year 1952, William McKnight, one of Washoe County's most distinguished jurists, chose-after establishing a splendid record in the service-to retire to well-earned relaxation. In turn, his resignation was given into the hands of Governor Charles Russell. In due time Governor Russell named as Judge McKnight's successor, John Stuart Belford, prominent Reno attorney.

In so doing, Governor Russell voiced this tribute:

"I appointed Mr. Belford because of his outstanding training, background and position in the community in which he lives."

That appraisal was fine and true and, we might add, richly deserved.

As to training, John Belford had, prior to his appointment, been a practitioner in the law in Reno for one year short of thirty. As to lineage, he came from a line of forebears. His grandfather-the late Judge James B. Belford-was a pioneer jurist who had served as one of the judges of the first territorial Supreme Court of the Colorado territory, and as the first Colorado representative in Congress. In these activities, James B. Belford exuded magnetism and oratorical talents to an extent that gained for him the sobriquet-"Red-Headed Rooster of the Rockies."

John Belford's parents-Samuel W. and Helen Belford-were both distinguished residents of Reno, coming further west from Denver, Colorado, in 1908. Sam Belford, aside from being a lawyer of note, also long held fame as an orator. Prior to his death in 1925, he had been actively engaged in practice in association with the late George S. Brown.

Beginning his residence in Reno at about the age of ten years-birthplace, Denver, and birthday and year, May 29, 1898-Judge Belford entered the public schools. In turn, he graduated from the Reno High School and the university of Nevada, then Harvard Law School. Returning to Nevada, he was duly admitted to practice and, in 1925, joined the firm of Brown & Belford in Reno, being a partner therein until Judge Brown's death in 1943. Subsequently he continued to practice alone.

Mr. Belford has represented the Southern Pacific Company and subsidiaries, the Ely Light & Power Company and Newmont Mining Corporation, as well as many local firms and individuals. He has been a member of the Board of Bar Governors of the Nevada Bar Association, and would have been in line for the presidency, had he not been elevated to the bench. He is a member of the American, Nevada State and Washoe County Bar Associations.

A member of Reno Lodge No. 13, F. and A. M., he is also affiliated with the Reno Chamber of Commerce and the Prospector's Club. At one time active in the Republican Party, he was chairman of the Nevada Wilkie clubs in 1940. At the University of Nevada, Mr. Belford is a member of Sigma Alpha Epsilon fraternity. He is a veteran of World War I, serving with the army.

In connection with the affairs of the Washoe County Medical Center, John Belford, as a trustee elected without opposition, took a keen interest. His retirement was made of record upon ascendancy to the county bench.

On May 31, 1934, John Belford was married to the former Marion Bishop of Pensacola, Florida, and the couple have three children, Frances M., Susanah M. and Samuel W. Belford. Residence is on a small ranch situated southwest of Reno on Belford Road.